Central Square Proposals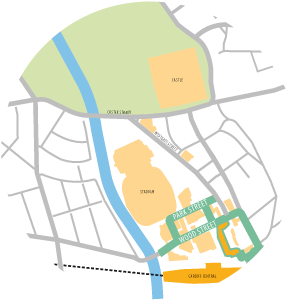 Improvements for cycling
New segregated cycle lane on both sides of Wood Street.
Cycle movements at Havelock Street and Westgate Street junctions will have a cycle-specific traffic phase.
Lower Westgate Street will include a northbound cycle lane.
Southbound cyclists from Westgate Street will be guided onto a corresponding stepped cycleway provided on Park Street and Havelock Street.

Improvements for walking
Significant crossing improvements at the junction between Wood Street and Westgate Street.
The pedestrian crossing directly to the east of Scott Road will be raised to footway height.
Signalised pedestrian crossings will be provided over the access points on Saunders Road.

Changes to buses
Bus stops JA to JD on Wood Street will be retained. These stops will be remodelled to incorporate a floating bus island.
Bus stop JV will be removed to facilitate the cycle lane. Bus stop JU on Havelock Street will also be removed.

Road design and layout
Wood Street will be reduced to one lane in each direction.
The new bus interchange will provide both northern access onto Wood Street and southern access onto Saunders Road.
Access onto Wood Street will be via a new southern arm at the junction with Westgate Street.
Saunders Road will be reconfigured to provide access to the interchange.
The one-way restriction on Havelock Street will be reversed to become southbound only and at the Wood Street junction, all vehicles will be required to turn right.
Park Street (between Scott Road and Havelock Street) will become one way in the eastbound direction.

Parking and Loading
There will be no changes to access to the Central Square development.
Access to the north of Wood Street will be retained through the creation of a one-way loop using Scott Road, Park Street and Havelock Street.