Bus Stop Bypasses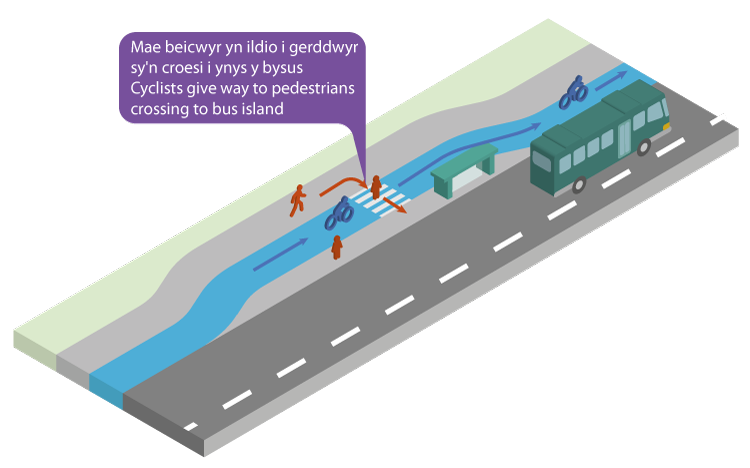 Bus stop bypasses (fig 1) have been incorporated into the design of the Cycleway along the City Centre West route. At bus stop bypasses, the cycle track continues behind the bus stop, providing continuous segregation from motor traffic for cyclists.
How do they fit into our proposals?
Bus stop bypasses are proposed at two locations along the City Centre West route:
Castle Street northbound bus stops GA – GC, opposite Kingsway
Wood Street eastbound bus stops JA – JD.
On Westgate Street, the cycle track will instead merge with the carriageway in the vicinity of each bus stop. Bus stop bypasses cannot be used on Westgate Street due to insufficient space.
What is a bus stop bypass?

Where a segregated cycle track approaches a bus stop, it is routed around the back of the passenger boarding area, allowing cyclists to 'bypass' the bus stop. Ramps are provided up and down the cycle track on each side of the bus stop, in addition to features designed to encourage cyclists to slow down and remain aware of pedestrians.

Bus passengers cross the cycle track when it is safe to do so, using a zebra crossing. If a cyclist sees a person crossing the cycle track ahead of them, they should slow down or stop to give way.

Bus passengers alight onto the 'island' section of footway. These waiting areas are at least 2.5m wide. Buses will use audio and visual alerts to inform passengers that they are alighting at a stop with an adjacent cycle lane and to use the marked crossing points.
Accessibility
Bus stop bypasses are installed with zebra crossings to make it as easy as possible for passengers with mobility impairments to cross the cycle track. Zebra crossings provide awareness to cyclists that pedestrians are crossing the cycle track and give more confidence to disabled bus passengers.
The bus stop island will be a minimum width of 2.5m. This will allow a bus to deploy an access ramp and for a wheelchair user to be able to turn onto or off it. A significant number of people use cycles as a mobility aid. For these people, segregated cycle tracks with bus stop bypasses provide a safer and more comfortable environment for them to get around.