Bus Gate
The City Centre West Transport Improvement Project links to the delivery of the new Central Square bus interchange and will provide significant improvements to the City Centre bus network in terms of service reliability and efficiency.
Central Square Interchange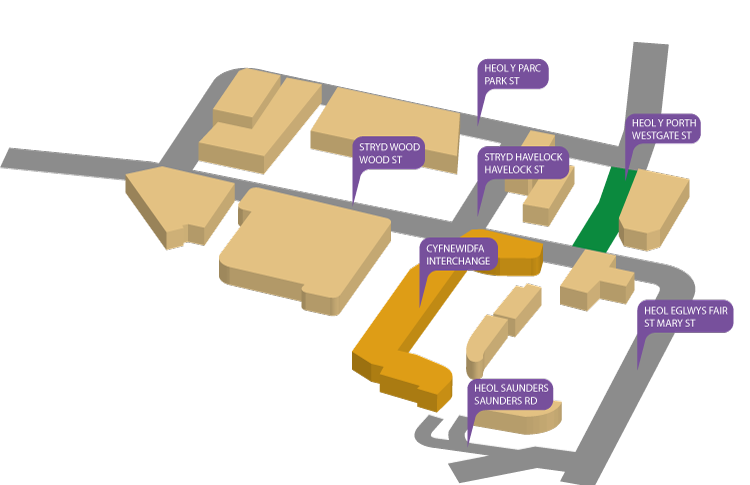 The interchange (fig 1) will provide a high-quality facility for Cardiff and the City Region. It will cater for local, regional and national bus and coach services.
The interchange will function has an important part of Cardiff's sustainable transport network. The City Centre West Transport Improvement Project aims to create links that will make it easier and more attractive for people to travel entirely by sustainable modes across the city.
Westgate Street Bus Gate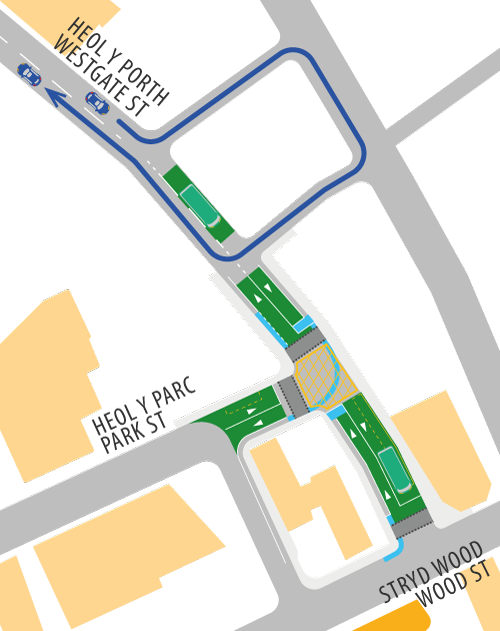 Our proposals will prioritise buses moving along Westgate Street by introducing a bus gate (fig 2) that will reduce the number of vehicles using this route. This has the potential to reduce traffic levels by 30% which would significantly contribute to addressing the existing air quality issues on Westgate Street.
What is a bus gate?

A bus gate is a short bus-prioritised section of road blocked off to all traffic except buses, cycles and taxis. General traffic is not permitted to drive in a bus gate unless authorised to do so. Vehicles that are permitted to use a bus gate will be indicated with signage.
How will it work?
The bus gate will be located at the junction between Westgate Street and Park Street.
The bus gate will operate in both directions. The northbound bus gate will be located at Lower Westgate Street (the section of Westgate Street between Park Street and Wood Street) and Park Street, to the east of Havelock Street. The southbound bus gate will be located between Guildhall Place and Golate y Gwter.
Localised network changes are proposed which provide a route for general traffic to avoid the bus gate. Park Street, between Scott Road and Havelock Street, will become eastbound only, and the existing one-way restriction on Havelock Street will be reversed to become southbound only.
General traffic will be able to turn around in advance of the southbound bus gate via Guildhall Place, St Mary Street and Golate Y Gwter, where all vehicles must turn right. Businesses and residents will receive information to demonstrate how we will maintain access requirements following the introduction of the bus gate.