Castle Street Proposals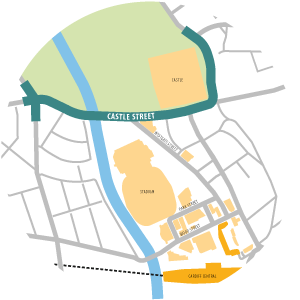 Improvements for cycling
New bi-directional segregated cycle lane from Cardiff Bridge to Boulevard de Nantes.
At Boulevard de Nantes, cyclists will continue onto another bi-directional segregated cycle lane via a cycling-specific traffic light phase.
The junction with Westgate Street will connect cycling provision on Castle Street and Westgate Street

Improvements for walking
New signalised pedestrian crossings on all arms of the Boulevard de Nantes junction. The existing underpass to be replaced with an at-grade crossing point.
New footway surfacing and public realm improvements.

Changes to buses
Increased capacity for northbound bus stops opposite Kingsway.
Bus stop KA removed outside Cardiff Castle.
Bus stop layouts modified to include bypasses for cyclists.
The westbound bus lane will be extended to the west of the junction with Westgate Street towards Cardiff Bridge, taking one traffic lane.

Road design and layout
One eastbound traffic lane, on Castle Street, will be removed to facilitate the new cycle lane.
At the Boulevard de Nantes junction, one straight ahead lane in the northbound direction will be removed. Two right turn lanes will be retained.
Southbound access to Greyfriars Road will be opened up to general traffic.
The two raised table sections on Castle Street will be merged to create an extended section of raised table.

Parking and Loading
All existing parking/ loading arrangements on the south side of Castle Street will be retained