Castle Street Proposals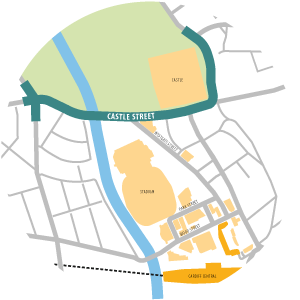 Improvements for cycling
New bi-directional segregated cycle lane from Cardiff Bridge to Boulevard de Nantes.
At Boulevard de Nantes, cyclists will continue onto another bi-directional segregated cycle lane (to be delivered as part of another phase of works) via a cycling-specific traffic light phase
At Cardiff Bridge, cyclists will continue on to the Taff Trail or Cycleway 4 to be delivered as part of another phase

Improvements for walking
New signalised pedestrian crossings on all arms of the Boulevard de Nantes junction. The existing underpass to be replaced with an at-grade crossing point.
New footway surfacing and public realm improvements.
New tabled area in front of Cardiff Castle.

Improvements for buses
Bus stop layouts modified to include bypasses for cyclists.
The westbound bus lane will be extended to the west of the junction with Westgate Street towards Cardiff Bridge.
Reduction in general traffic using the area.

Road design and layout
One eastbound traffic lane, on Castle Street, will be removed to facilitate the new cycle lane.
The two raised table sections on Castle Street will be merged to create an extended section of raised table.