Cycling
The City Centre West Transport Improvement Project forms part of a wider project to introduce Cycleways to Cardiff. These are continuous and segregated cycle routes that will connect communities to major destinations across the City, including the City Centre and Cardiff Bay.
We are planning to introduce five new Cycleways to Cardiff:
Route 1: City Centre to Cathays, University Hospital Wales, Heath rail stations, and North East Cardiff Strategic Development Site.
Route 2: City Centre to Adamsdown, Newport Road, Rumney, Llanrumney and St Mellons Business Park.
Route 3: City Centre to Cardiff Bay
Route 4: City Centre to Llandaff, Danescourt and North West Strategic Development Site.
Route 5: City Centre to Riverside, Ely and Caerau.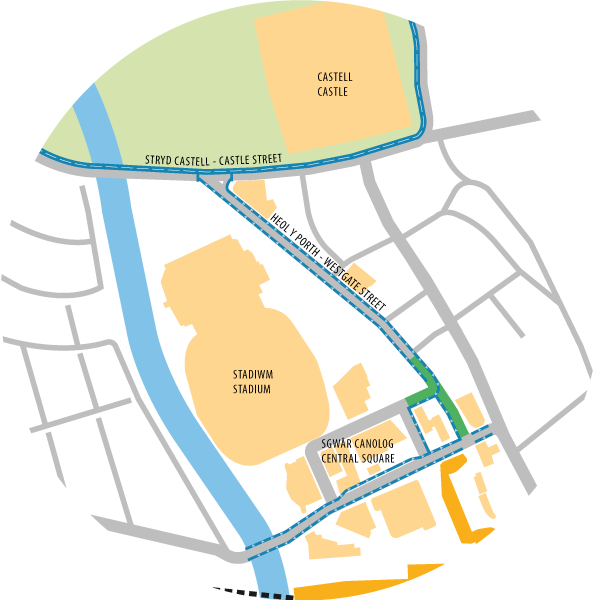 A City Centre route is proposed that will link the Cycleways together and connect key destinations within the City Centre. (fig 1)
City Centre West relates to the section of this route that includes Castle Street and Wood Street. Westgate Street will also be developed to provide a segregated cycle route.
The Cycleways project will introduce changes to the City Centre aiming to make cycling safer, more convenient, and an attractive travel option.
Whilst these routes have been designed to be intuitive and comfortable to use, some features encountered on a Cycleway may be unfamiliar. We have prepared this document to outline some of the changes that are proposed as part of the City Centre West cycle route.